T-09-02

Home Site Map - Techniques - Interior Design -
Counter Tops

Implement your own wooden counter tops for your kitchen and wherever needed.
Possible choices
There are many ways to make a counter top for a kitchen, utility room, or bathroom. I want a method I can do myself, but many of the options (such as Corin) do not support that (their business model revolves round licensed contractors). Formica looks a bit cheap and dated. Personally I like the look of wood, but it is important to make it waterproof and wipe cleanable.
My choice is to make the countertops by gluing together 2x12 lumber. Use PL-Premium glue because it is strong and about the same color as the wood. Highly sand down the glued together assembly, then thoroughly varnish it.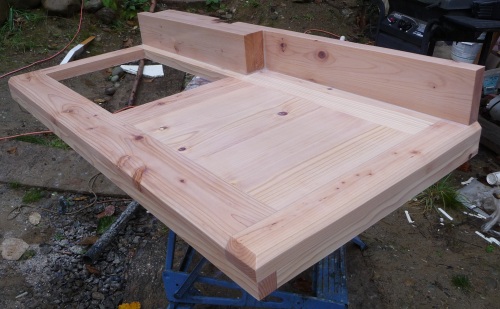 Another option is to use very large porcelain tiles. Either with a tile edge or inlaid in wood.
Biscuit Joiner
The best way to join two planks of 2-by edge to edge is to use a biscuit joiner . This ensures that the planks have their faces properly aligned to form an even surface for the counter top. It also allows you to check that everything fits together before committing to gluing.