M-06

Doors
Sliding Glass Doors
Sliding patio doors are really just large horizontal sliding windows. They typically come from whichever supplier you chose to supply your windows. In my case I'm using Pella Encompass windows so I chose Pella Encompass sliding doors. Only one side opens so you either specify a right hand or left hand version. For details look on the page that describes windows that is here. Using sliding doors is pretty crappy but they are a low cost way when you only need occasional access.
Swing Glass Patio Doors
Sliding glass doors are cost effective but sometimes you want to have a more classy door to your patio and make it a visual centerpiece. A french door that has two swinging glass doors is the answer, but expect to pay 2 - 5 times as much money. You can get them with doors that swing inwards or doors that swing outwards. Doors that swing inwards are best because you can open them from inside to get ventilation without having to mess with the bug screen.
Whatever brand of swing door you choose you are not really going to match the windows so shop around and find one that you think looks nicest (for the money you are prepared to pay). Get one with at least a white exterior frame so it does not look too out of place relative to the windows.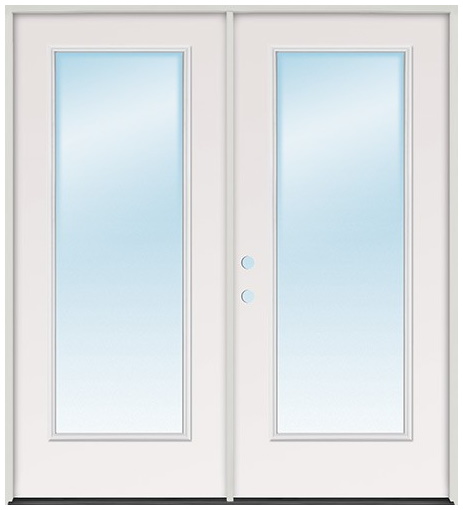 https://www.doorclearancecenter.com/french-doors/full-lite-steel-patio-prehung-double-door.html
Entrance Door
The entrance door that visitors arrive at should make a statement. It sets the tone for the house. You can get double door entrance door arrangements but personally I prefer just one door that is fairly huge.
My door design
My front door design includes 6 panels (of 3 different sizes) made from 1.5" thick lumber. These are bolted on with deliberately visible half inch bolts (ironwork looks good on doors). You can carve the panels before fitting them and you can even change them later if you decide you don't like the carving.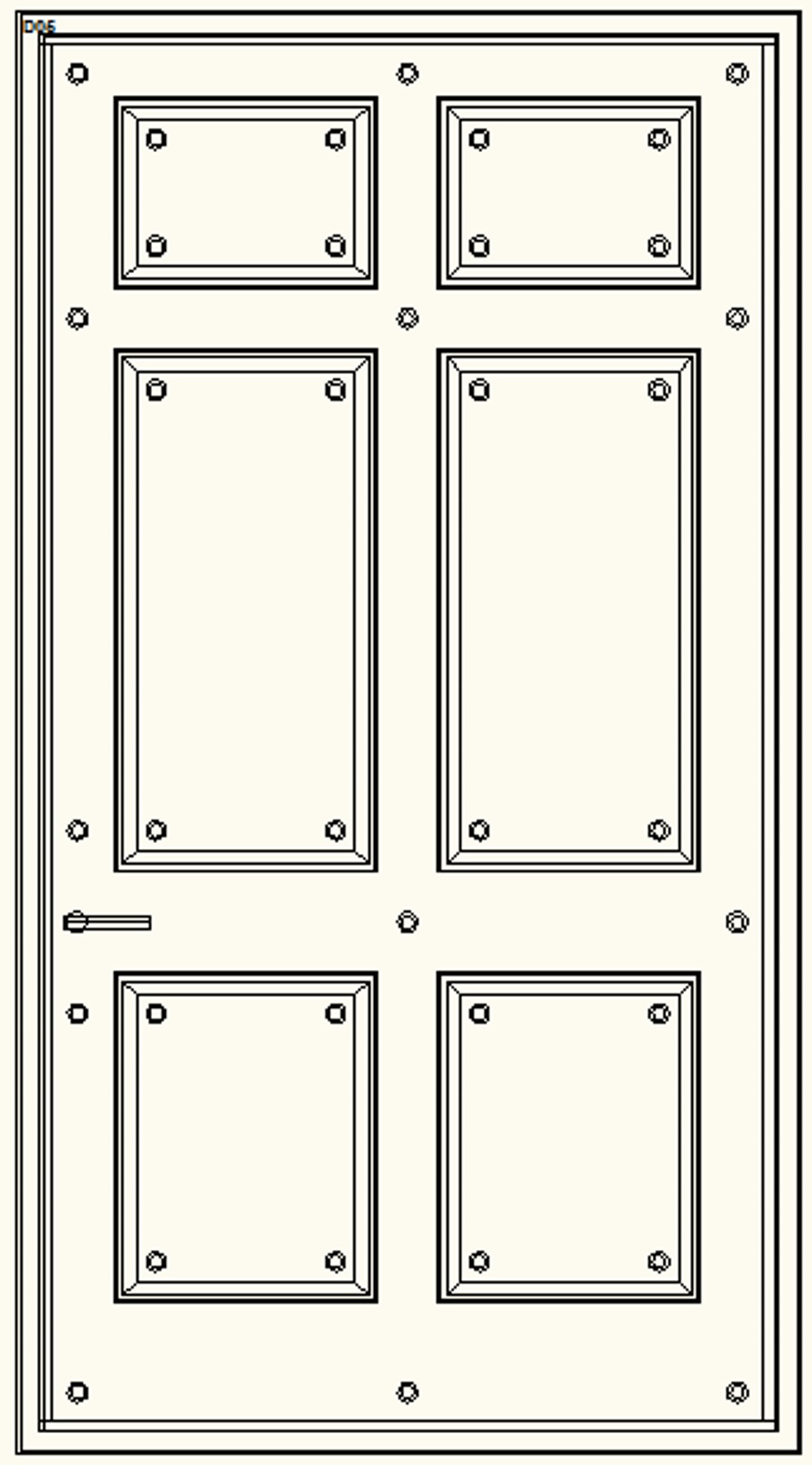 Inside the core of the door, two sheets of half inch plywood provide triangulation. There is also an optional steel sheet to make the door bullet proof. Also a 2" sheet of EPS provides thermal insulation. The bolts deliberately do not go from inside to outside in order to avoid compromising the thermal break. The nuts for the bolts are glued/welded to make them captive.

Note that with a thick door such as this it is necessary to angle the outer edge or it will not open/shut. Also, the door needs to shut against a lip so that a tight seal is achieved (particularly important in an air tight eco house). The lip is done using lumber and there is half inch wide weather seal strip.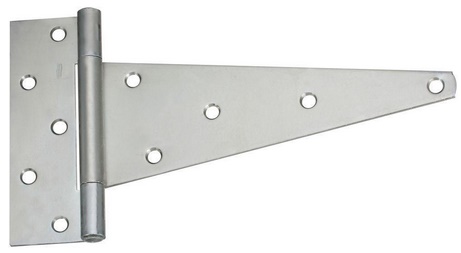 Door hinge 12in
Other possibilities
You could get someone to do some high quality woodworking and then get a blacksmith to make it even more unique. You could even have one with animals carved onto it (click pictures below to go to the web site of Ron Ramsey who did these doors).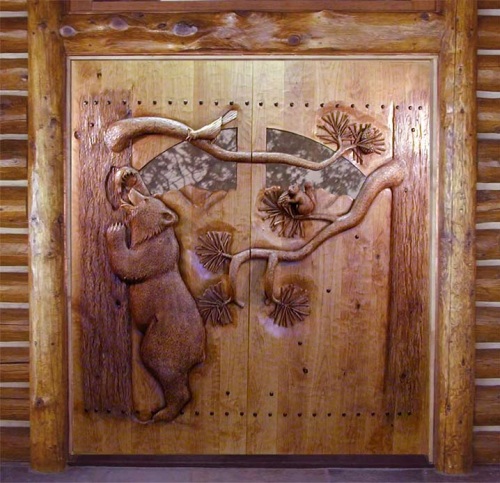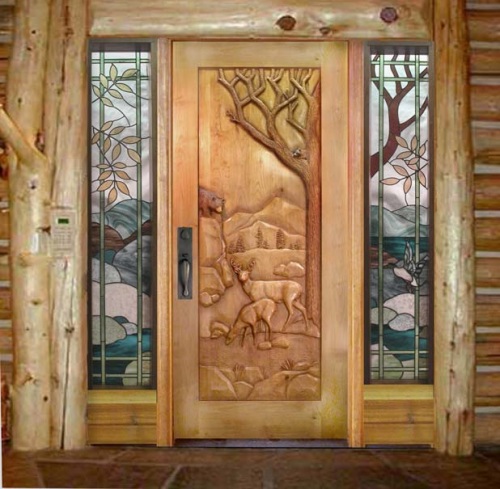 A few other ideas
Use CNC router.
Could use a plasma cutter to make an outline of a bear and stag. Possibly a complete coat of arms. Lots of decorative bolts - make holes with plasma cutter. Still need a continuous metal sheet inside door - need holes cut for other end of bolts.
Need to use well dried wood to avoid warping.
Use strong big hinges.
Needs to open inwards (or it would push visitors off the porch).
Don't want a window or even a peep hole as it is better to use a camera to see people on the porch.
(Is it best to make it a two leafed door so easier to open and achieve nice symmetry?)
Exterior Side Door
This can be a similar design to the main front door, but reduced in size.
Steel Door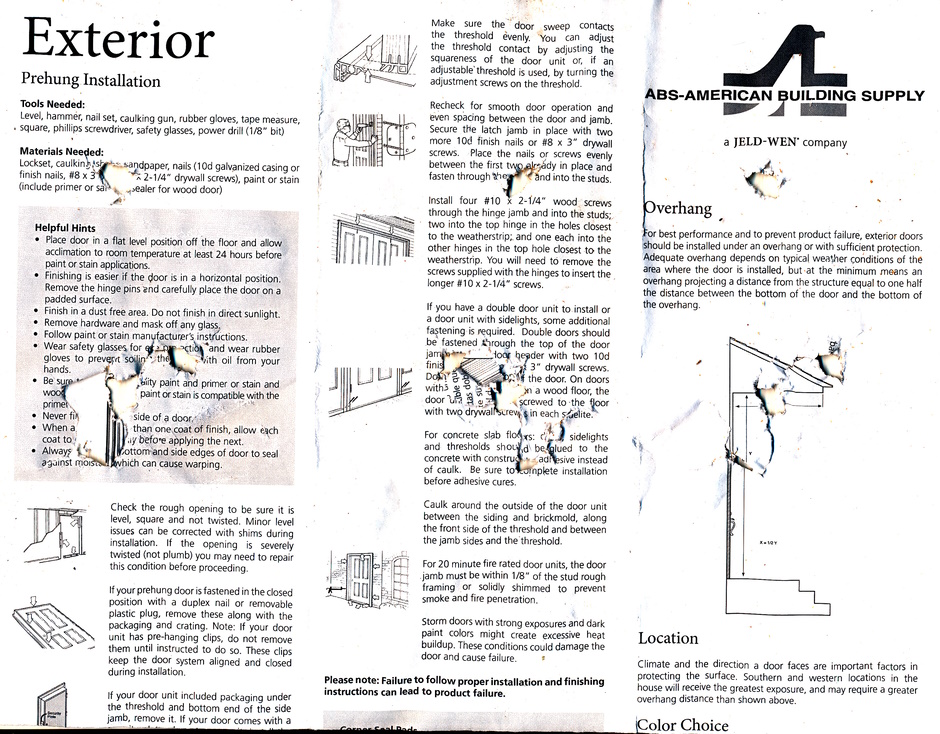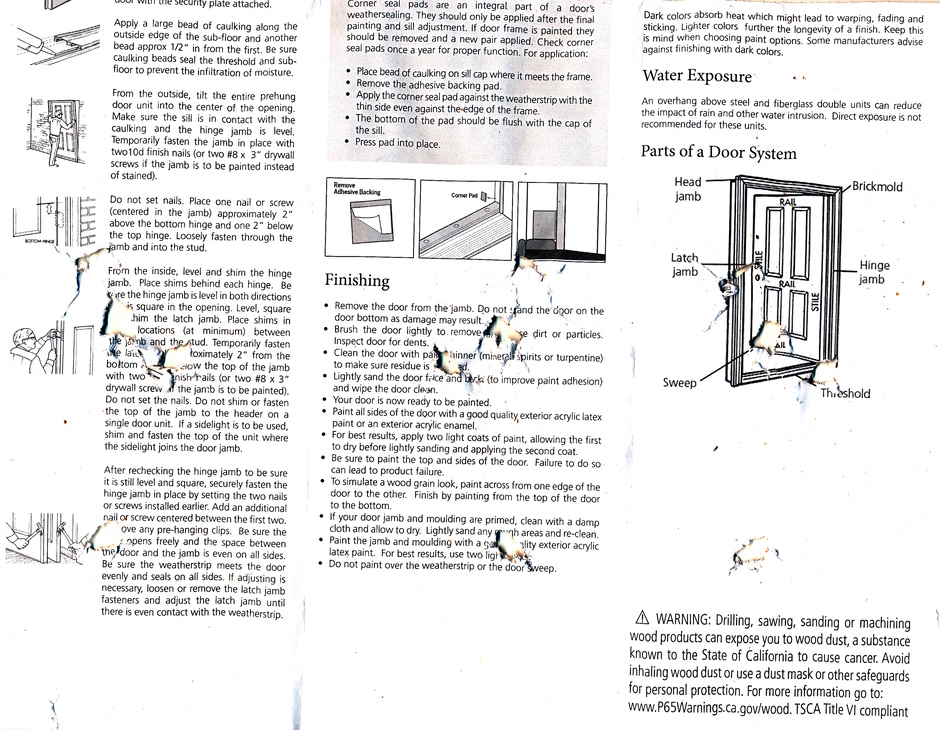 Garage Door
Again these are home made with EPS inside for insulation. Even though the design uses twin doors and the doors are much bigger, the starting point for the design is as per the main front door. It is good to use 4" of EPS rather than 2" given the larger size.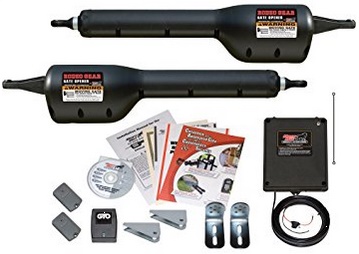 Door/gate opener
Interior doors
EightDoors 36-in x 80-in Natural 6-panel Solid Core Unfinished Pine Wood Slab Door
https://www.lowes.com/pd/EightDoors-Clear-VG-Pine-Door-6-Panel-80-in-x-36-in-x-1-3-8-in-Unfinished/1002828024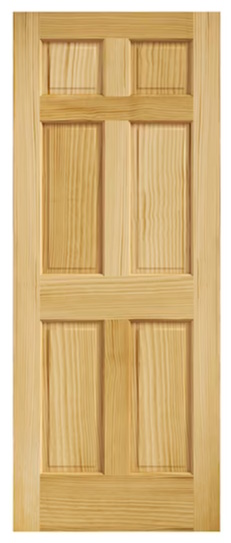 These doors are a raw slab, so need to make your own surrounding jams and route for the hinges and handle etc.
Right or Left swing
Here's how to determine whether you want a right hand or left hand door...
Stand in the doorway with your back against the side of the frame with the hinges.
Determine which way it is that you want the door to open, inward or outward.
Extend your arms directly in front of you.
With your spine on the hinge side of the frame, move your arm in the direction of the door as it is to open. (Do not cross your arm over your body.)
If your right arm moves into the room, the swing is right hand, in swing.
If your left hand moves into the room, you have a left hand, in swing.
Hinge Installation