T-09-03

Home Site Map - Techniques - Interior Design -
Kitchen Design

Design yourself a modern stylish kitchen.
Style trends
It looks like everyone is going for stainless steel appliances. I'm fine with that as it goes with everything and it is easy to mix and match lots of products from lots of manufacturers.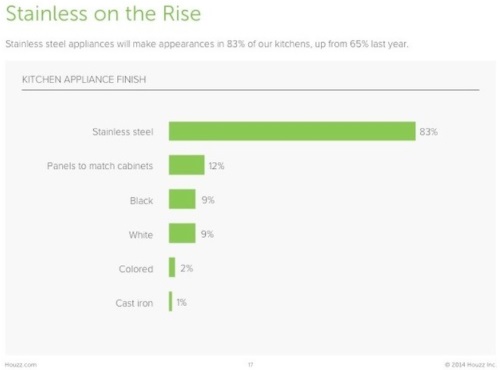 Dimensions
Aisles in a kitchen need to be a minimum of 36" wide. My choice is to make them 39" (3'3"). The extra 3" makes it easier for two people to pass.
The standard for countertop height is 36" and that's what I use.
Typically the counter width is 25" (2'1"), but I prefer a deeper counter so there is room for appliances at the back. My choice is 31" (2' 7"). This is 2'6" with a 1" overhang.
Typically the counter overhang is 3/4" to 1". I chose 1".
Typically upper cabinets are 12" deep but in my case they need to be 6" deeper because of the greater counter width. My choice is 1'6".
The distance from the top of the counter to the underside of the upper cabinets is usually 18" and that's what I'm using.
Providing some room for your feet at the bottom of the cabinets makes it much more comfortable to work at the counters. The ideal toe kick height is 3.5" and the ideal toe kick depth is 3". I chose 2-1/4" high and 3" deep.
The hood should be the width of the cooktop. It is better if it does not actually stick out over the cooktop so that there is less danger of dust falling from the hood into the food.

My kitchen design
Plan view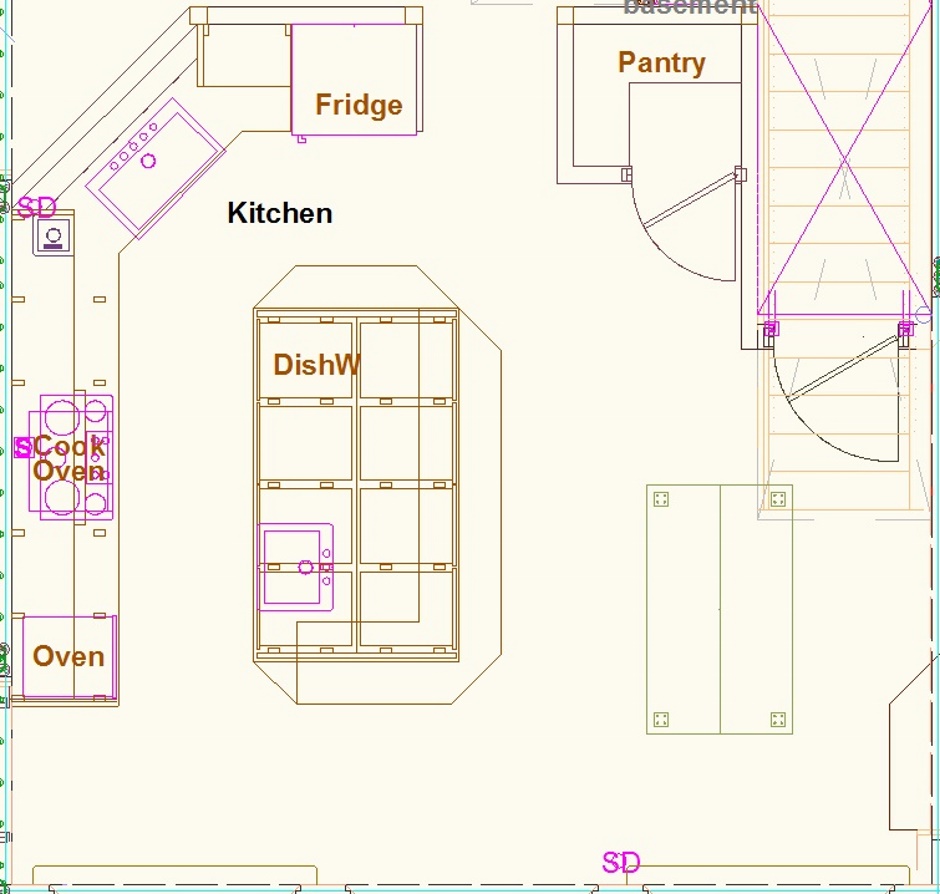 West Wall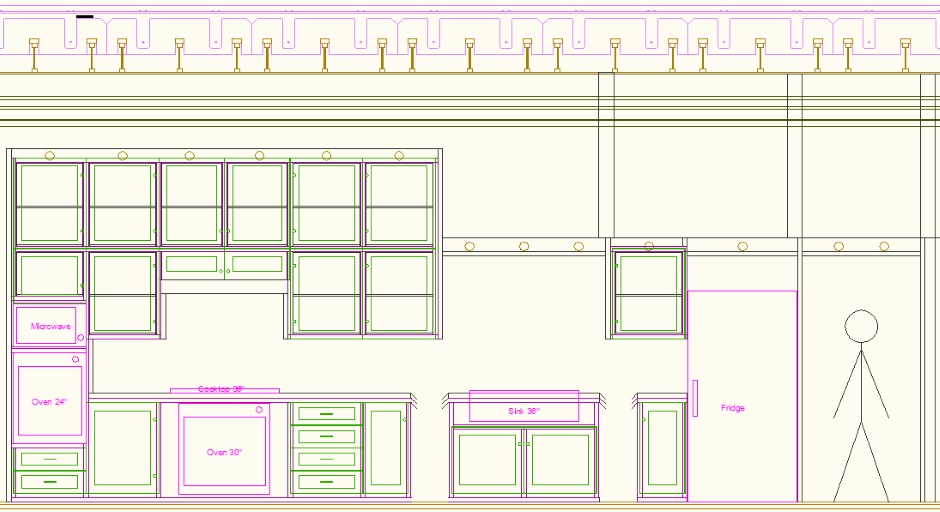 Island end view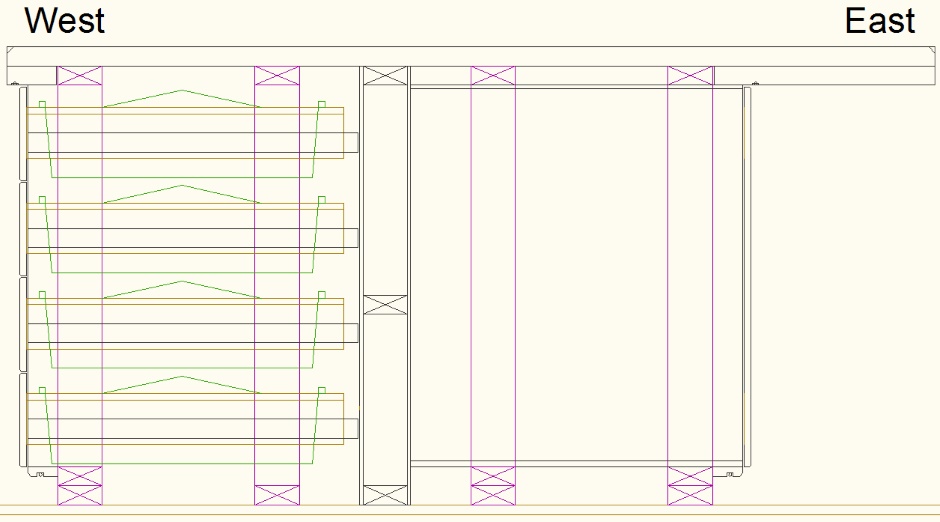 Island west side

Island east side

Cabinet frames design

Kitchen cabinet building blocks
Cabinet doors
You can order them online at any size you want.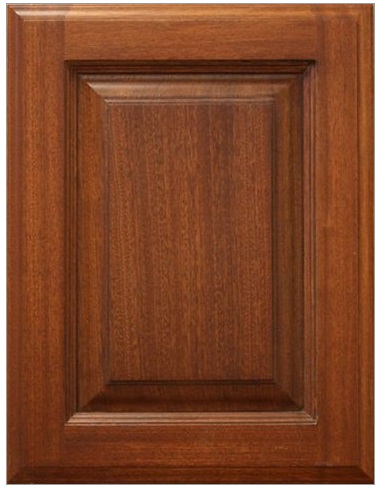 Cabinet doors
Cabinet hinges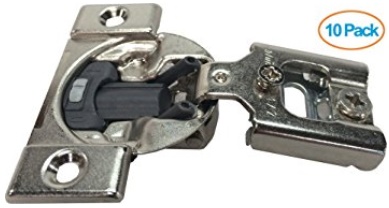 Cabinet door hinges
It is good to fit soft close devices to cabinet doors to stop them banging shut.
Plastic boxes
Available in various sizes. Use removable plastic storage boxes in a frame as the draws.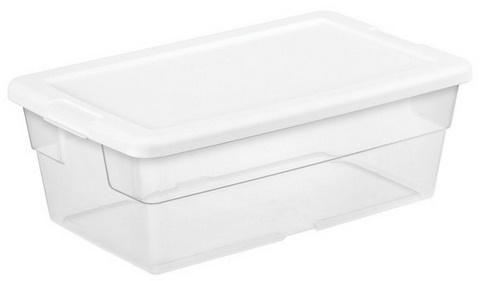 Plastic Storage Boxes
Tray liners

Tray liners
20" x 14"
Draw slides
Want soft closing.
In the kitchen a 24" slider is good. (For furniture chest of draws a better choice is 20".)
Cabinet draw handles

Handles
Shelves
Shelves in cupboards need to have a wipe-able surface. Plastic covered wood is a good choice, but many people use 5mm underlayment plywood. Another possibility is thin plastic sheeting held down with double sided carpet tape.
Products
Kitchen Sink
Try to get a 36" wide deep sink. With a kitchen sink it is all about not having to lean too far forward when doing the washing up. A curtain sink is best.
Holes needed behind sink
Hot water for drinks
Filtered water
Hot water for mixer faucet
Cold water for mixer faucet
Spray for dishwashing
Cooktop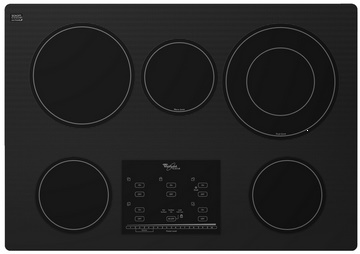 Smooth surface cooktop
It may be better to get an oven that has an integral cooktop, particularly as it reduces the amount of counter that needs to be implemented.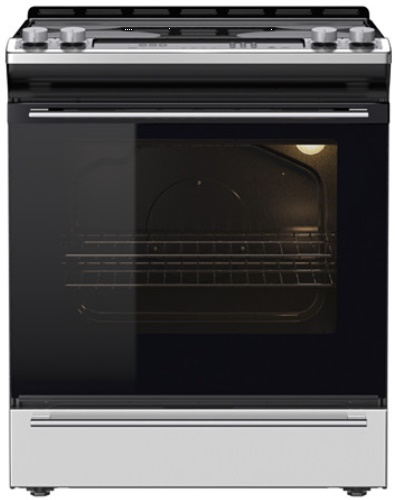 Cooker Oven
Ovens
Need both a 30" oven and a 24" oven.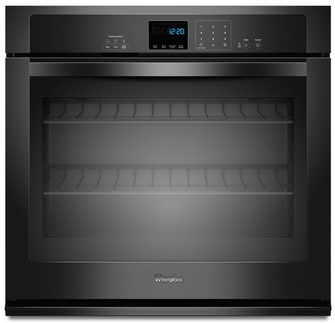 Wall oven
Trash / Recycling bins
Ideally there should be a foot pedal or touch-less sensor to operate the trash lid. That may mean it is better to have the trash bin free standing rather than in a cabinet, but putting it on a slide draw should be ok.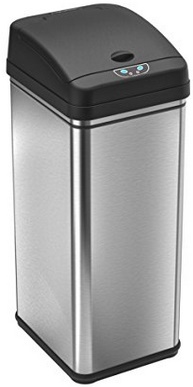 https://smile.amazon.com/dp/B000EJVYTS/ref=psdc_3744241_t1_B00C50ODWO $59.94
12.8" D x 10.8" W x 27.9" H
Best bet is to make a large sliding draw that has the plastic trash can. This means the trash can be tipped vertically into it or just scraped off the kitchen counter into it. Use good quality slides so it is very little force needed to move it. The draw can be pulled out either by hooking your foot under the bottom edge of the draw front or can be automated. If automated then you need a way to control how far it comes out (in the majority of usage scenarios you only need it to come out 1 foot but with the option of further). Even if not automated, a pulley and weight can be used to make the draw automatically shut. The cabinet needs to be fairly air-tight to prevent smells.
A compactor trash can is a possibility but kitchen models are very expensive. It is better to compact the filled trash bags in the garage.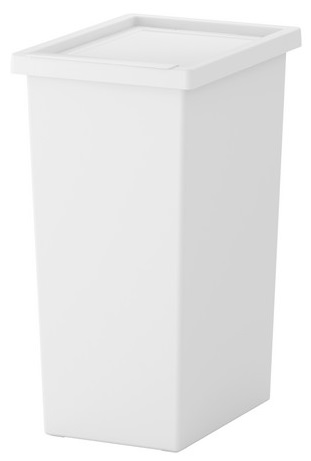 http://www.ikea.com/us/en/catalog/products/20193899/ $12.99 Filur
Width: 11.5" Depth: 15" Height: 21.75" Volume: 44 qt
Rubbermaid Commercial Slim Jim Receptacle with Venting Channels, Rectangular, Plastic, 23 Gallons
https://smile.amazon.com/gp/product/B0013CM0KW/ref=ox_sc_act_title_1?ie=UTF8&psc=1&smid=ATVPDKIKX0DER $27.99 when on sale
Height 28.5"
Length 22"
Width 11"
This 22" is too large for my kitchen cabinets