T-04-14

Home Site Map - Techniques - Plot Infrastructure -
Tiny House

A self contained full house for use on your property or on vacation.
Size constraints
The definition of a "Tiny House" is that it is less than 400sqft and is mobile conforming to highway regulations. The importance of being under 400sqft is that it is able to take advantage of the relaxations in IRC 2018 building code regarding such things as head heights and stairs/ladders.
In most U.S. states highway regulations dictate a max size of 13'6" tall (from road surface), 8'6" wide, and 40' long.
Make it 23.5 feet long so that overall it is 200 sqft. 200sqft is King County max sqft without permit (not that this really matters given that it is on wheels). More important is that this is a sensible length to make it towable.
Use a 26' long trailer to allow an extra 3'+ box at the front for outside services.
Trailer axis must be rated to take the weight. Weight will be something like 12,000 pounds so use a 24' or 26' trailer with twin axils to give 14,000 pound rating.
The maximum dimensions are to the furthest extreme, so make sure things like trim and connectors etc are within these limits. It is worth keeping to a outside wall width of 8' 5-1/2".
http://www.tinyhousedesign.com/road-limits-for-tiny-houses-on-trailers .
Building code
This relates to the rules you follow when designing and building your Tiny House. Convincing your local zoning and building authority that you have built it right can affect whether they let you live in it. As you do not need a building permit for something on wheels they will not actually come and inspect it so it can be difficult to convince them that you have followed building code. I recommend taking lots of pictures during the construction so you have something to show them. Even if you never plan to tell anyone about your Tiny House, I recommend that you follow building code because that makes the house safer.
IRC 2018 Tiny House Appendix V
International Building Code has been around for a long time and is typically what applies when building a regular large house. The problem is that some of the code is not practical to do for a Tiny House. The good news is that in the 2018 version of IRC (thanks to lots of good work done by members of the Tiny House community) they have introduced an appendix modifier for Tiny Houses. If your house is less than 400sqft then you get to use the more relaxed rules.
Ceiling height
6'8" minimum ceiling height for main floor.
Ceiling heights in lofts are permitted to be less than 6 feet 8 inches.
Stairs / ladders
Tread depth and riser height shall be calculated in accordance with one of the following
formulas:
1. The tread depth shall be 20 inches (508 mm) minus 4/3 of the riser height, or
2. The riser height shall be 15 inches (381 mm) minus 3/4 of the tread depth.
Ladders accessing lofts shall have a rung width of not less than 12 inches and 10 inches to 14 inches spacing between rungs. Ladders shall be capable of supporting a 200 pound load on any rung. Rung spacing shall be uniform within 3/8-inch. Ladders shall be installed at 70 to 80 degrees from horizontal.
Bedroom escape
You need an opening window of a size that meets regular IRC egress rules.
Fire
Need Smoke detectors and Fire extinguishers.
ANSI A119.5 Recreational Park Trailer Standard 2009 Edition
These are the rules that apply to anything designed to be certified as an RV.
Certification
This has an affect on whether you will be allowed to live in your Tiny House and whether you will be able to finance it. It gives you a certificate from an inspector that you can show to the zoning and building departments and/or the loan officer to prove it has been implemented to proper building code. Currently the only certification available is RV certification. In the future there may be companies that do Tiny House certification per IRC code.
If the manufacturer of the Tiny House is a certified RV builder then you may be able to get an RV loan.
Getting a certificate will cost you money so you should only go through the certification process if you absolutely need to.
Companies that provide RV certification...
RVIA
http://www.rvia.org/?ESID=ANSI
Pacific West
https://www.pacificwesttinyhomes.com/services
Zoning
These are the rules put in place by your local town or county to say what types of houses they will allow on the various plots. They might for example decide that they only want houses that are more than 1200sqft and no more than 5 houses per acre. The good news is that many jurisdictions are starting to see Tiny Houses as a way of solving their affordable housing problem.
As a first step, enlightened local authorities are likely to change their zoning rules to allow a tiny house as a second dwelling on a plot with an existing regular house.
You will need to talk with your local zoning department to discuss what's possible.
Financing
RV loan
Needs RV certification.
Eg 15yr RV loan for $90,000.
Rent-to-own
The manufacturer of the Tiny House keeps the legal ownership of the trailer and house and the person living it pays a monthly rent. A contract specifies what proportion of the rent goes towards paying off the price of the home, the timescales, and any clauses associated with contract termination etc. After the price of the home has been paid, the legal ownership of the trailer and house is transferred to the person living in the home.
My philosophies
Make it as simple to build as possible.
Keep windows to a minimum. Where needed make windows as big as possible.
Design out air gaps behind outer sheeting both on walls and roof. Air gaps are time consuming to implement and cut down available inside house space.
Avoid angles. Keep it purely rectangular to make it simple to implement.
Do all the internal to the wall fitting of wires and pipes from the outside. This allows final finishing and rough-in to be done in one step. It does mean you need a dry environment to build the tiny house.
It needs to be energy efficient (ie economical to heat). This is a big difference between an RV and a Tiny House.
Trailer

Trailer requirements
Basic features
Bed size 8'6" x 26'
Twin axle, 14000 pounds
Corner scissor jack points.
Cross-member supports recessed six inches below the top of the frame to accommodate 2x6 floor joists and insulation without sacrificing any floor height.
Axles positioned somewhat forward compared to a typical flatbed trailer.
Maximum legal limit width of 8'-6'' (102'').
All wheel electric brakes.
Steel edge plate under walls.
Weight distribution
Want 55-60% of the weight to be in front of the wheels (40-45% behind). In the case of a heavy thing such as a tiny house it is best to make it 55%. Assume weight distribution is uniform over house area. Need to make some allowance for the utility box.
Potential issues
Eagle iron trailers have two issues that TinyNest discovered... Suspension can flip modes if trailer is jacked up. Wheels sound rusty on rotation. Need to ask them if they have solved these small issues.
Customizing
Ideally get them to add custom features such as metal shelf underneath for batteries and sewage tank. Could be done with wood framing under floor.
Trailer suppliers
Iron Eagle (Portland) (Best bet)
http://ironeagletinyhousetrailer.com/tinyhomes/
https://padtinyhouses.com/trailer-designed-for-your-tiny-house/
Trail Dust Trailers
https://www.traildusttrailers.com/
Other
https://seattle.craigslist.org/see/for/d/8x20-10k-tiny-home-house/6271377160.html
https://www.pjtrailers.com/trailers/b5-5-inch-channel-buggy-hauler
https://seattle.craigslist.org/see/for/6210586281.html
https://seattle.craigslist.org/oly/grd/6213999073.html
https://seattle.craigslist.org/sno/trb/6180970479.html
Layout
The actual house needs to be a flat roofed rectangular box in order to maximize the space allowed by the highway regulations. Even though a rectangular box isn't visually appealing, you can add awnings when the house is parked to give the look of a sloped roof.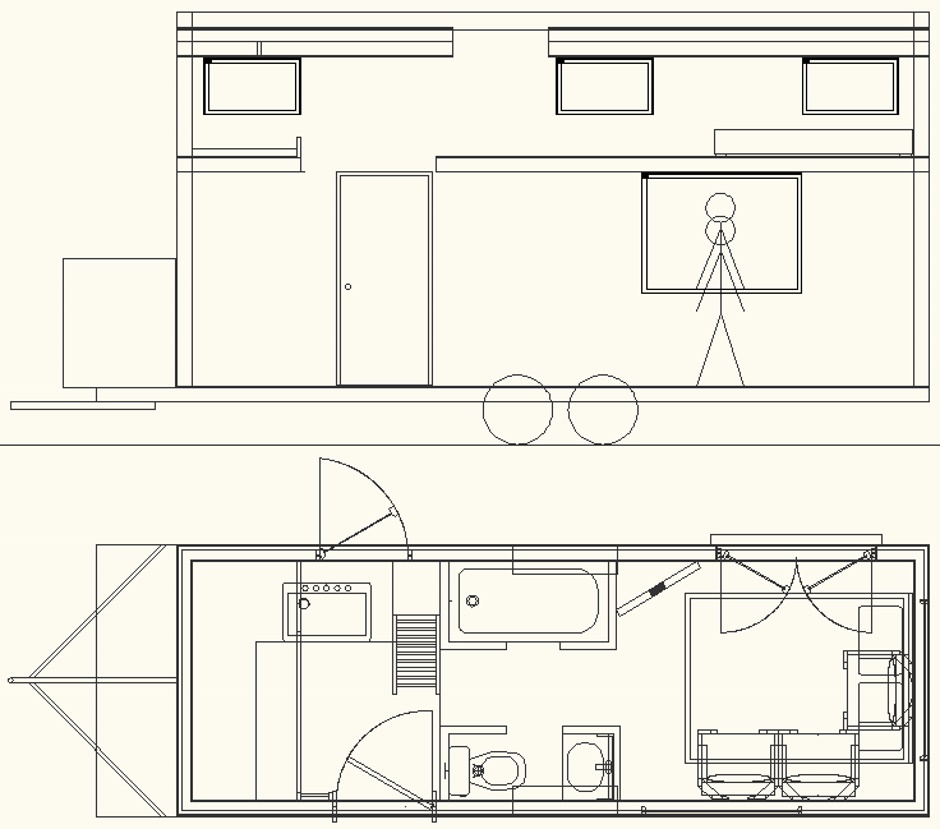 Rectangular box to full height along whole length.
Bedroom above living room at rear.
Toilet and bath in center on lower floor.
Kitchen at front.
Stairs from kitchen area.
Actual master bedroom ceiling height depends on how low floor is on the trailer.
Utility box at front.
Floor storage (to under trailer) is useful.
Roof deck
Flat roof to catch rain water and be a people deck.
Lip wall round outside 6" tall (measured from EPS).
Round holes on 4" pitch to optionally provide steel round rod posts for a 3'6" safety fence (for children).
Provide loft hatch access to roof deck. Access via master bedroom floor (not over bed).
Roof insulation (EPS) on the outside of the roof. 4" on outside, plus 5.5" as batts between beams.
Cedar wood plank deck over self-adhesive roofing covered EPS. Wood keeps UV off the self-adhesive membrane.
Roof deck is great when visiting events to get a good view.
Optional stow-able tent roof on a flat roof deck to provide sun shade and rain protection.
Structure
Dimensions
Exterior walls are 6" thick.
Interior walls are 3" thick.
Need to ensure no overhangs (eg windows or window trim) exceed the maximum 8.5 foot width. Need to ensure things like trim are in the AutoCAD drawings before starting. Allow quarter inch on each side for things beyond siding.
Walls
Framing
2x4 framing.
Frame for rough opening size of windows.
Optionally use diagonal on-flat 2x4s (in cut-ins on inside) to provide squareness and wind shear. You may be able to get away without this by relying on the interior plywood to provide shear. It depends a bit on how much travelling you plan to do with the Tiny House.
Glue and screw all joints with PL-Premium.
Insulation
2" + 1.5" EPS as batts.
Extra 1.5" of 15psi EPS on outside of 2x4 structure.
All the insulation is added from the outside after wires and pipes have been installed.
Inside
On inside use half inch sanded cabinet grade plywood fixed with 2" screws. Need plywood to handle sheer. Glue the plywood on to increase the shear handling capability. The plywood when varnished will be the interior finish.
https://www.lowesforpros.com/plywood/1532-cat-ps1-09-douglas-fir-sanded-plywood-application-as-4-x-8_g2698851.html
$25.07
https://www.lowesforpros.com/plywood/1532-cat-ps1-09-douglas-fir-sanded-plywood-application-as-4-x-8_g1789224.html $25.62
Ideally it would be best to buy formaldehyde-free plywood.
Could use softwood trim over joins between plywood seams on inside, or may decide to just leave joins visible.
Outside
On outside use vinyl siding https://www.lowesforpros.com/vinyl-siding/georgia-pacific-vision-pro-1125-in-x-144-in-double-5-traditional-vinyl-siding-panel_g2221016.html $9.60
Need to measure actual highest point thickness (probably half an inch).
Straight onto EPS surface using 3" wood screws with nylon washers. No air gap.
Water control
Do not need to use 6mil polyethylene on inside of walls. The only materials that can rot are the wood framing and the inside plywood. They are on the inside and are kept warm and dry, and can dry to the inside.
The outer siding is vinyl and will not rot. It sheds rain to stop the EPS getting saturated. Rain shedding is particularly important as the Tiny House width restriction means the roof cannot provide an overhang.
All sliding joints need to be well sealed or driving rain while towing may get inside.
Floor
Framing
2x6 beams, 16" on center.
2x4 wall bottom plate over half inch ply (that is over 1" 40psi EPS).
The plywood is important to help prevent shear.
Don't use sill wall plate under the doors as want to avoid a trip hazard and need the full height.
Insulation
2" + 2" + 1.5" EPS as batts.
1" 40 psi EPS as under covering
1" 40 psi EPS on top to isolate from trailer steel. Allow for this in height calculations and AutoCAD drawings. Bolt 2x4 wall bottom plate through to trailer steel.
Water control
Paint underside with waterproofing eg W.R. Meadows - Air-Shield LMP - Vapor Permeable Air Barrier.
Ceiling
Framing
Ceiling framed using 2x6s.
Plywood on underside of ceiling beams. The plywood prevents shear and skewing of the top of the house. Force of walking on roof transmitted through EPS to the underside plywood.
Frame for roof access hatch.
Insulation
Use EPS batts (2" + 2" + 1.5") between 2x6 ceiling joists.
Also put roof insulation (4" EPS) on the outside of the roof. Only actually 3" and 2" in some places to provide water direction to collection drain.
Water control
Cover with a self adhesive roofing membrane (eg Liberty roofing).
Extend the roof self adhesive membrane down the walls a bit (up and over the lip round the outside of the roof).
Do not use 6mil polyethylene on inside of ceiling.
UV protection surface
Removable and raise-able wood decking sections. Raise deck to top of 6" perimeter walls during towing so stuff such as solar panels and awnings can be stowed in 4" space underneath.
Windows and doors
2" screws for window nail fin so no danger of being sucked out while towing.
A half lite fiberglass door is a good choice in the kitchen.
French inswing doors in living room even though expensive.
Bedroom window must open and meet egress standards.
Internal walls
Use 1.5"x1.5" for internal wall framing. 2x4 on-flat used in some places eg at corners.
Use 1/4" ply on outside of internal walls.
Put sound insulation (EPS) inside internal walls. Inside cavity use 1.5" EPS.
Where tiles required, use 1" EPS on inside.
In practice all internal walls have tiles on the inside. A wall with tiles on one side has a 3" wall thickness.
Bedroom floors
Master bedroom and guest bedroom.
Bedroom floor seams ideally need to line up with the 1.5" thick framing for internal walls.
Use half inch ply as bedroom floor as this will resist house twisting. Nice to use cabinet grade plywood so it is finished floor.
Paint it white on underside to contrast with wood varnished beams.
Provide a wall on front lip of master bedroom with access opening at top of stairs. Use a curtain over the opening.
Stairs
Need permanent stairs.
Can be eg 1'3" between rungs.
Kitchen counter space under stairs.
Utility box
Power bulge box on front with services.
Slope the top give rain shedding and make it more aerodynamic. Needs a big door on the front face.
Propane tanks.
Electrical generator (propane capable).
Possibly... Batteries, Sewage tank, HRV.
Under trailer
Batteries.
Sewage tank.
Under floor storage.
HRV.
Awnings
As there is no roof overhang, above doors and windows provide detatchable awnings to allow them to be open when it's raining.
They have a big influence on how good the Tiny House will look when parked.
They need to be easy to fit and remove for towing.
Need to fold-up for storage. Can be stowed under roof deck.
Make them the full length of the house on both sides and ends at roof height. They are effectively the roof eaves that were not allowed because of the width restriction. About 30 degrees and a decent way out to form a wrap-around porch on all sides for outdoor living. Roof sections need to have one dimension less than 6'6" so they can go inside for travelling. Other dimension has to be short enough to get through door and into corridor.
Make them using UV resistant sheet on 2x4 frame.
Decks (ground level)
Remove-able and stow-able. Can be stowed under roof deck or on ground floor for transporting.
Fix to mounting lip and bolts. Lip is removable steel plates bolted to underside of trailer.
Foldable legs on outer edge.
Ideally whole length all around the entire house to a width of 6'6".
Hides and protects the wheels. This is important to make the Tiny House visually appealing (ie look like a permanent building rather than a trailer) and it also stops UV from wrecking the tires.
Sewage
Collect sewage (RV style) in tank mounted under trailer.
RV sewage pump to empty tank into septic tank or other fixed sewer system.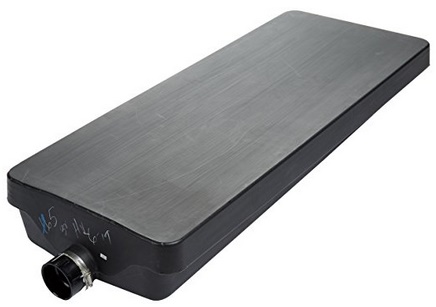 22" x 54" x 8", 33 gallon, 3" coupling.
https://www.amazon.com/gp/product/B00J9C6E3M/ref=s9_acsd_topr_hd_bw_bBnJest_c_x_w?pf_rd_m=ATVPDKIKX0DER&pf_rd_s=merchandised-search-3&pf_rd_r=Y7H1SKQN6J4PP2QEEAMR&pf_rd_t=101&pf_rd_p=a9e154f4-7e01-5962-acfa-c94cd0ebf889&pf_rd_i=10806187011
Ideally get one that is self supporting with a mounting lip round the top.
Pump needs to be able to pump up hill with a good head.
Pump needs to be machinate type to use a 3/4" garden hose pipe.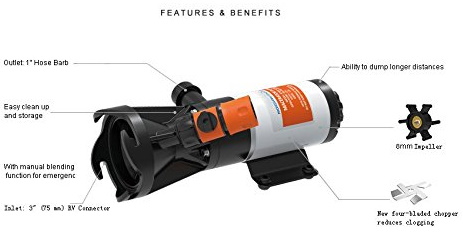 https://www.amazon.com/Flojet-18555-000A-Portable-Macerator-Carrying/dp/B001HKZHIW 20' head, 50' length, 12V.
May need a more powerful pump so can pump more than 50' with 20' head. May take a larger diameter discharge hose. Pump up to 300+ feet away with a 20-foot rise.
Grey water outlet
Water from the bath, sink, and washing machine is not too dirty so can be drained directly into the surrounding land. You would not want to have to keep emptying the sewage tank because it had filled with bath water. Provide a 3/4" garden hose connection to which can fit a long garden hose. The bath drain time will be long with only a 3/4" hose but the pipe is more discrete and the smaller flow will give the water time to disperse into the soil. Use only bio-degradable soap to avoid contaminating the soil.
Drinking water
A tank just under ceiling height dedicated to potable water.
Can be fed from pressurized potable water or gravity feed if no hose attached and vent opened.
Use $200 reverse osmosis filter to provide drinking water.
More than one cold water faucet on kitchen sink - one with drinking water and one with washing water.
Need to be able to switch over to a high pressure water feed. Use standard RV water connection hose.
Provide an external fill port to fill the tank from a portable tank in your car that you have filled in the local town. Use a 12V potable water pump to get it out of your car to the ceiling level tank.
Washing water
Bath and toilet flushing can be less good water compared with drinking water.
Collect rain water on flat roof.
Collect water in flat tank mounted under roof in kitchen area. Keeping it high allows for gravity feed to faucets.
Shutoff valve to be able to fill gravity tank from potable water tank (which may be pressurized by water hook-up). Air gap at top of tank to keep the two separate.
Hot water
Small electric water heater tank.
Ideally use a heat pump unit but that is expensive.
Heating
Electric duct-less mini-split.
Provides heating and cooling.
Using an HRV will reduce your heating bills and provide good ventilation.
Security
Necessary when left in parking lot while going into town in car.
Need a good alarm system with loud siren.
Strong locks on doors.
Window break sensors.
Lights on timers to simulate occupancy.
TV flicker simulator.
Outside motion-activated LED lights.
Internet
Cat-6 plug.
Wireless router for inside Tiny House.
Kitchen appliances
Get "Apartment size" appliances.
Fridge
Need a freezer as well as a fridge compartment.
Should this be 12V? Better to use a regular 110V unit. Can augment with a separate 12V cooler box.
Cooktop
Electric. Can be a 4 ring unit.
Oven
Smallest oven eg 24" electric.
Washer and dryer
As one unit. Ideally a condensing dryer.
Sink
33". Has removable two wood plank tops.
Dishwasher
Don't bother with a Dishwasher.
Toilet room
No window, just extractor.
Tiles on the inside.
Bathroom
No window, just extractor.
Tiles on the inside.
HRV
Necessary in a tight house.
Also stops moisture from humans causing condensation
Either under trailer or in utility box.
Costs about $500 but worth it.
Furniture and storage
Lots of open front storage under fitted L shaped couch.
Storage framed into floor, particularly near wheels to avoid trailer grounding.
Need a dining table with foldable legs.
Electricity
230VAC, 115VAC, 12VDC
Use a 230V feed, ie L1 and L2.
Use a transfer switch (like for a generator) so can feed in 115V from either 12V inverter or generator.
Only sub-panel in tiny house will be a transfer panel.
Need another switchover switch between generator and solar inverter.
There are two types of RV service available... 50A 230V or 30A 115V. So to get 230V you need a connector to a 50A hook-up.
As the 50A service has a 50A breaker you need to use 50A cable and a 50A connection to the Tiny House.
Also provide a 30A 115V hook-up. This allows you to get electricity when only 115V (via eg an extension cord) is all that's available. Need to feed this to both L1 and L2 in the sub-panel. Obviously none of the 230V appliances will work). No need to switch them off as no current will flow as no voltage difference between L1 and L2. Need to use a dual breaker (with switches on top) to protect against the possibility that 230V gets also connected.
Lighting
All LED. Stick-on strip LED lights.
115V (not worth doing any 12V circuits as 12V needs expensive thick cable).
Propane generator
Generator in front services box.
Use propane generator.
Can be lifted and wheeled to a more remote location to reduce noise. Need to provide a long propane hose to avoid having to lift out propane tanks.
Solar
Solar panels on roof that can be propped to 45 degrees and rotated towards the sun. Need to be laid flat and secured for travelling. Details are here .
Batteries mounted under trailer. Four RV deep cycle batteries under trailer.